How We Do
Our Client Experience
Having been in the industry for over a decade now, we have crafted our signature Client Experience to ensure all our clients go through the same process of understanding Harveston's core values and the client's onboarding exercise.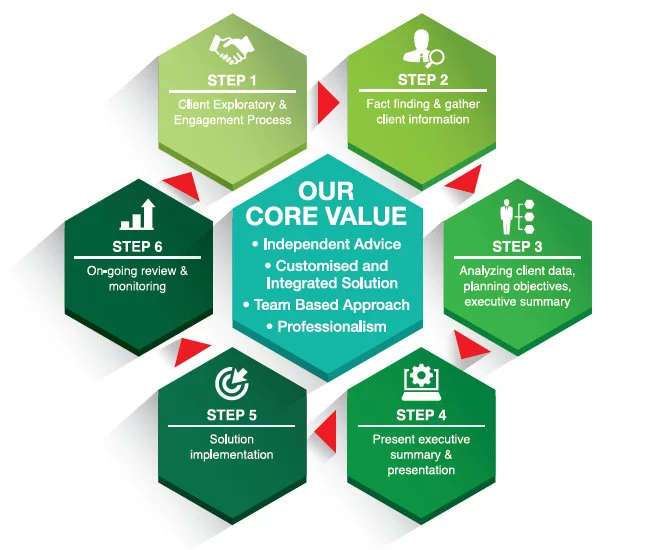 Our Core Values
1. Independent Advice
Our advice is based on clients' needs.
We represent our clients' interests to seek the most suitable solutions.
2. Customised & Integrated Solutions
We implement customised solutions at the different stages of our clients' lives.
We provide integrated multiple solutions to achieve our clients' financial objectives.
3. Team-Based Approach
We serve our clients with a pool of expertise in various areas of Wealth Management Services.
4. Professionalism
Our advisers are qualified and well trained in all aspects of Wealth Management Services.
We uphold our practice standard by benchmarking the industry best practice.
Our Process
Step 1 - Client Exploratory and Engagement Process
Harveston adviser introduces to the client about the total wealth planning process, understands the client's needs and goals and explains how an adviser can help.
Step 2 - Fact finding and gather client information
Harveston adviser identifies client's personal financial objectives, needs and priorities and gathers necessary information and documents from client to understand client current financial situation.
Step 3 - Analyzing client data, planning objectives, executive summary
Harveston adviser assesses information given by client with regard to client existing wealth planning and compares them to client's objectives, needs and priorities then customises and details the suitable strategies, products and services to help client meet financial goals in an executive summary.
Step 4 - Presentation of executive summary
Harveston adviser presents the recommendations and explains the supporting rationale in a way that allows the client to make an informed decision.
Step 5 - Solution implementation
Harveston adviser implements appropriate product(s) and service(s) that are consistent with the executive summary and recommendations accepted by the client.
Step 6 - On-going review and monitoring
Harveston adviser and client mutually define and agree on terms for reviewing and reevaluating client's financial situation especially when there are changes in life stage like marriage and birth of children so that adviser can determine if the recommendations are still appropriate and also monitors client's progress to make sure it stays on track.